The Mighty Indian Theater Tribe

The Frankston High School Theater Department performed two community showings of Clue, High School Edition, over the weekend. The show drew a crowd of roughly 230 viewers over the course of the two-day run. The students hard work was evidenced by the quality of their production. Director Katie Reed pointed out, student actors and production crews are only paid in laughs and applause, and this show paid well.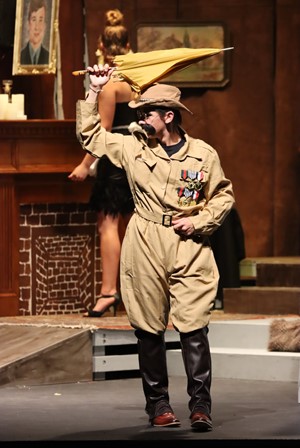 Colonel Mustard played by Cullen Jones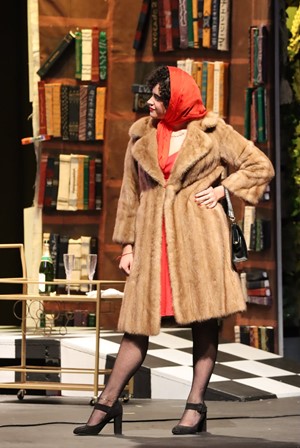 Miss Scarlet played by Katie Hadash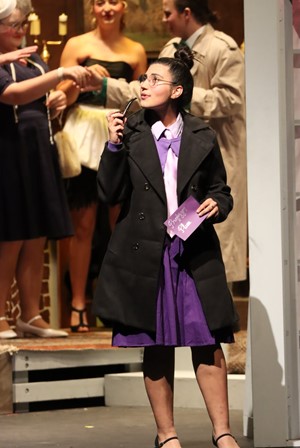 Professor Plum played by Abby Menjivar
Every element of the show was student led. Student stage managers and crew organized props and set the stage based on cues from the script. Students ran lights and sound, and of course the cast was composed strictly of student actors. This means that for a show that ran roughly an hour if there was a problem, the students had to resolve it. According to Reed, "Theater challenges students across the board, not just in memorization and acting. Students worked for weeks prior to the show designing set pieces, building them, putting together period appropriate costumes, gathering props, finding sounds, and determining lighting. This requires students to use math, research skills, as well as learning some construction basics."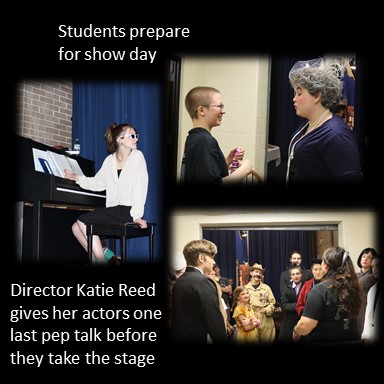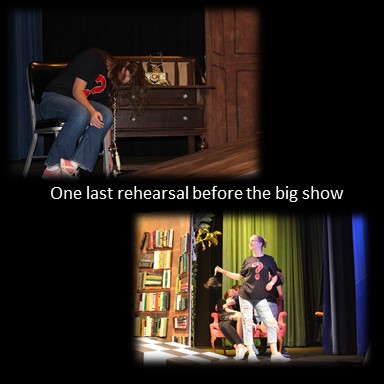 Clue was an excellent showcase of the demands of participating in a full-length show, and the students delivered. Director Reed stated, "I would call this show a huge success. We have community members who came and watched on Saturday and came back to watch again on Sunday. Multiple times actors had to pause in delivering lines to allow for the laughter to fade, and that is what this was all about. There is so much going on in the world right now that at times people seem to forget to laugh. For the hour they were with us that was not a problem, for that hour they laughed!"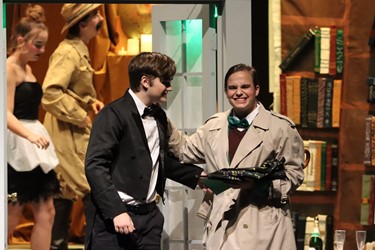 From left to right: Wadsworth played by Chris Hale and Mr. Green played by Brady Nolen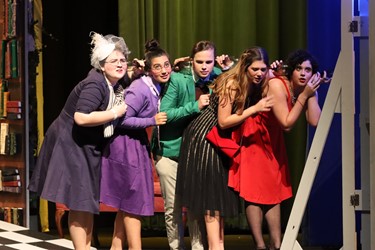 From left to right: Mrs. Peacock played by Remi Yates, Professor Plum played by Abby Menjivar, Mr. Green played by Brady Nolen, Mrs. White played by Jaycee Nabors, and Miss Scarlet played by Katie Hadash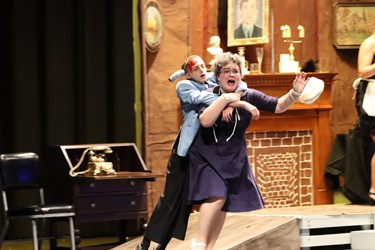 Mrs. Peacock runs screaming onto set dragging the twice killed body of Mr. Boddy played by Alex Prater.
At the end of Sunday's show, the cast and crew led by Reed paid tribute to late FISD student and theater "sound guy," Seth Gaskin. Student, Brady Nolen drew a portrait that was then painted by another student, Ava Reed, of Seth which was used as part of the set. On Sunday the portrait was presented as a gift to Seth's family from the theater department. Reed commented, "Seth was an integral part of the theater family, but not just because he was good at his job. He was a friend, to everybody. He was an example to his peers of how to love each other and that you are never too young to live your life in pursuit of a greater purpose."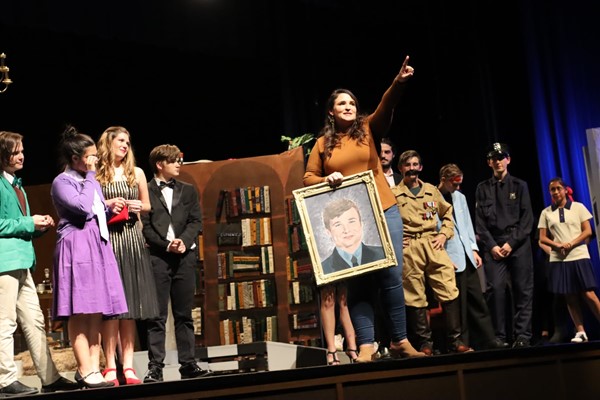 Reed, cast, and crew present the portrait of Seth Gaskin after Sunday's show.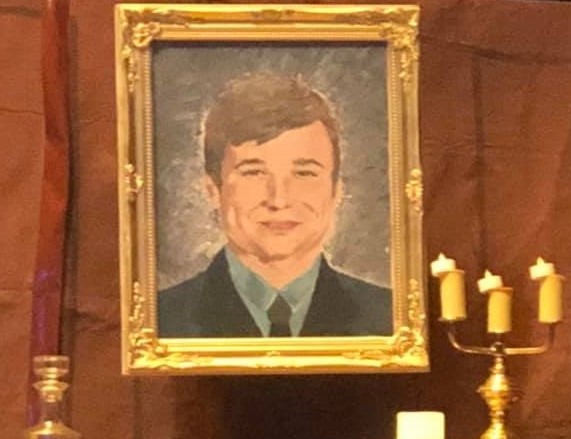 Portrait of Seth Gaskin painted by Ava Reed and drawn by Brady Nolen
With the curtains having closed on Clue, the theater department will now set its sights on preparing for One Act play competition. Last year FISD's production of Gatsby advanced and produced multiple cast and individual awards. This year Reed has set the expectations high. "We have the talent, both on and off stage, to produce a winning show. Last year gave us a taste of victory but left us hungry. This year we are bringing it."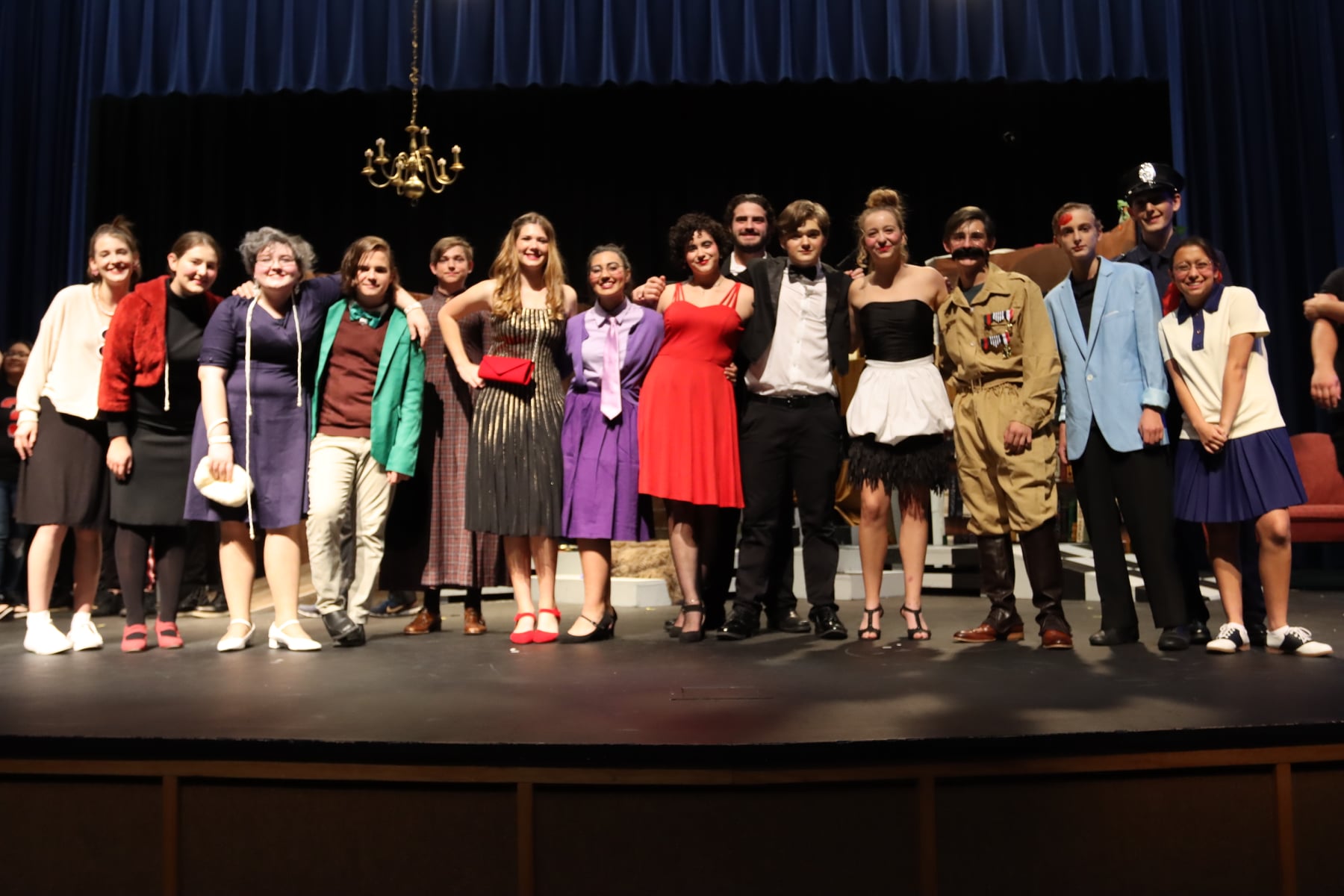 CAST
Wadsworth: Chris Hale
Yvette: Pauline Passchier
Miss Scarlet: Katie Hadash
Mrs. Peacock: Remi Yates
Mrs. White: Jaycee Nabors
Colonel Mustard: Cullen Jones
Professor Plum: Abigail Menjivar
Mr. Green: Brady Nolen
The Cook: Jordan Medlin
Singing Telegram Girl: Haley Bragg
Cop: Ryan Derr
Mr. Boddy: Alex Prater
The Motorist: Elizabeth Derr
Chief of Police: Tristan Shuptrine