The Mighty Indian Band Competes in Teague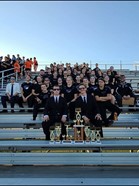 On Saturday October 9, 2021, the Frankston Indian Band competed in the Teague Invitational Marching Competition. Bands from across the East Texas Area met Saturday to compete ahead of the up coming UIL Marching Contests. As part of the competition, bands had the opportunity to get feedback from judge and Director of Bands at Navarro College, Joshua Buckrucker. Mr. Buckrucker provided the bands with invaluable direction to assist in their preparation for UIL Marching Competition.

The Mighty Indian Band performed their contest show, Alien Invasion in the preliminary rounds of competition around 3:30 which was well received by the judges and crowd. In the preliminary competition the Mighty Indian Band received straight 1 markings from the judges, the highest marks allotted in a marching competition.
In addition to band's overall exemplary score, the Mighty Indian Band also received 1st Division ratings for their Color Guard, Percussion Section, and Drum Majors. Overall, the band was ranked with Best-in-Class 2A Auxiliary (Color Guard), Best in Class 2A Percussion, and Best in Class Overall Band for the 2A Division.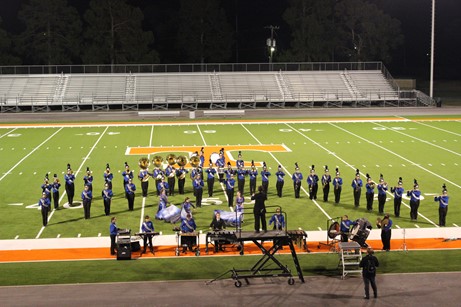 After their performance in the first round of competition the band was invited back to perform again and compete in the finals. In the first-round, bands competed against other bands from schools of the same size. In the finals, bands competed against each other regardless of the school's size. In competition against 2A, 3A, and 4A schools the Mighty Indian Band ranked 5th overall.