FISD Hosts Blood Drive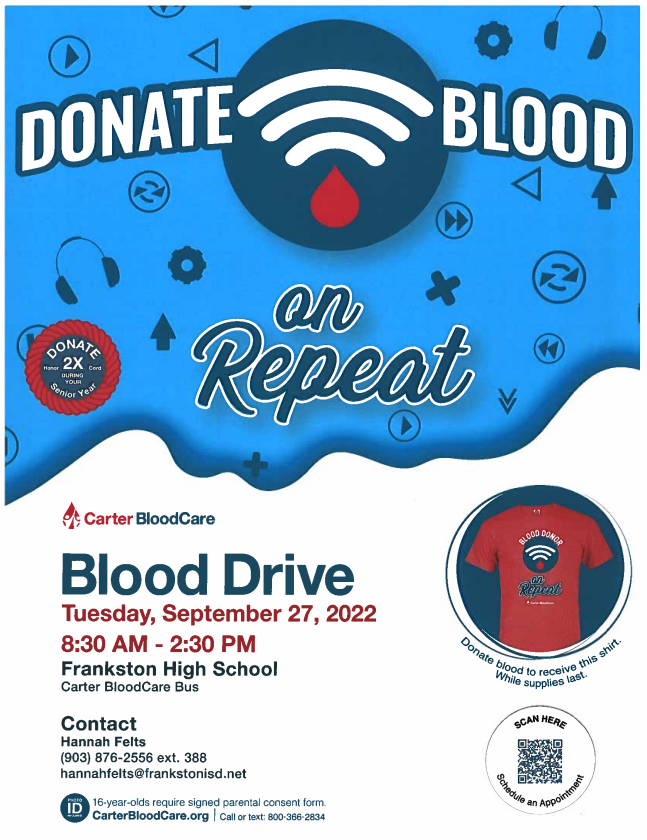 ---
Frankston ISD will host the first blood drive of the school year September 27th from 830a-230p. Students and staff may donate if they meet the following guidelines.
To donate, you must be 16 years or older, weigh 110lbs or more, and be in good health to donate. For seniors, they will be able to receive an honor cord at graduation if they donate blood at least two times throughout their senior year. If a senior is ineligible to donate (due to age, weight, or medical restrictions) may ask a teacher/staff to donate in their name at the school or at a Carter BloodCare Donor Center. A local opportunity would be the United Methodist Church Health Fair/blood drive on October 1st 830a-1200pm. See the link for their sign ups.
If staff or students would like to donate blood, they must register using the QR code that can be found on the posters throughout the high school. The QR code can also be found in the document attached on this email.
On the day you donate, you must bring a photo ID. Students who are 16 years old must also bring a signed consent form from their parent. Those students must stop by my office the Monday before the blood drive to pick up a consent form for their parent to sign. All athletes must speak with Coach Felts before they register to donate blood to discuss any restrictions or precautions they might have to take or be aware of to donate.